A LIONESS and UNICORN,
Were fighting for the crown.
Some gave them MMLV DAEK,
And drummed them out of town.
Together, they used MDSL OHJT IDHE,
Until the gold was found.
Ft5th: St 1

You emerge from a stone tower into an oddly geometric garden. A square of perfectly trimmed grass feels vibrant beneath your feet, but it soon gives way to an equal-sized square of bare soil, before another square of grass.
Odder still, the next square ends in a sheer cliff. Peering tentatively over the edge, you see…
You put the thought from your mind and return to enjoying the summer breeze.
Looking into the distance you see similar rocky outcrops, each with figures on them. You try to get their attention, but they seem to be drifting lazily away.
You hear a cough behind you. A short man in rusted armour is peering through a brass spyglass at the distant cliffs, his brow furrowed. Suddenly, he swings the device towards you, twisting the end furiously to adjust the focus.
"You there! No civilians on the battlefield."
"Battlefield? It seems like there would be easier places to resolve a dispute."
"Ah. Hmm. Noticed that did you? Of course, it wasn't always like this. Never, really. Can't work out quite how it happened. But not our business to worry about these things, only to fight."
"And what are you fighting for?"
The knight doesn't seem to understand your question. With barely a pause, he returns to surveying the distorted landscape.
"We just need to work out where everyone is now, and where the prisoners were taken, and then we can restart somewhere more… topographically agreeable.
"Can I help?"
Even beneath his battered helmet, you can tell the knight is dubious.
"Best thing to do would be to find her . She used to oversee our battles, you understand. She would keep track of everyone's movements in her little notebook. Yes, finding her would really be best."
Your stomach falls away, dropping and dropping and dropping. This is wrong. All wrong. But…
"Or you could talk to one of the kings," the knight has carried on talking, oblivious to your discomfort. Or maybe nothing was wrong at all? That's probably it. Everything is fine. You should just help this man, and then you'll find her. That's definitely best.
"Kings always keep track of their armies," he says with authority. "When they're not napping, of course. I can't seem to see them at the moment though."
He swivels his head round wildly, barely giving you time to duck beneath his telescope.
"All I know is they definitely won't be on the same piece of land. Can't bear to be near each other, you see."
"Well what have you found out so far?"
Standing suddenly to attention, the knight puffs out his chest and bellows:
"FACT THE FIRST: UNTIL THE BATTLEFIELD FRACTURED, ALL MOVES WERE CONDUCTED IN ACCORDANCE WITH THE STANDARD RULES"
"Okay, but I more meant…"
"FACT THE SECOND: NO MOVES HAVE BEEN MADE SINCE THE BATTLEFIELD FRACTURED"
"I… see."
"FACT THE THIRD: THREE MOVES IN THE GAME INVOLVED BOTH A KING AND A ROOK. SINCE THE LAST OF THESE, NO OTHER ROOK MOVES HAVE BEEN MADE."
"That doesn't seem the most pertinent information, but perhaps it might be helpful. Anything else?"
"FACT THE FOURTH: I HAVE NO OTHER FACTS TO SHARE."
And with that definitive declaration, the man collapses his spyglass and scuttles back into the tower, leaving you alone.
Squinting into the distance, you seem to be able to make out six distinct rock formations, but none of them contain anything resembling a king.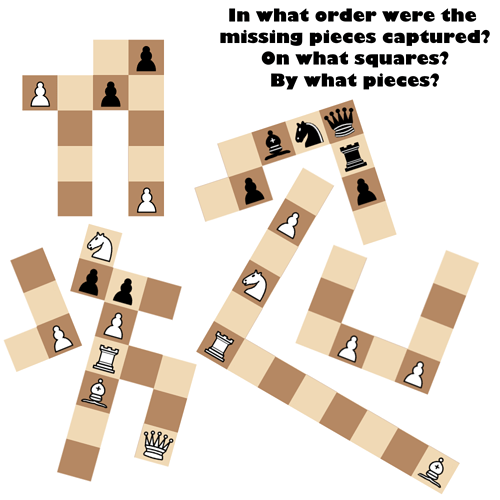 In what order were the missing pieces captured, what captured them, and on what squares?
When you've worked it out, submit your answer here.